Fire Brigade station software
1.1.4 24 October 2022
Copyright © 2003 - 2023 Steve Davis
Welcome to FireShed - FREE Fire Brigade station management software that is now being successfully used by a number of Brigades across Australia, New Zealand, Europe and the USA. It now includes a response management system - check it out in the demo.
FireShed software is an ongoing work in progress and has been since 2003. It has been written by Steve Davis primarily for the Mudgeeraba Rural Fire Brigade, Gold Coast, Australia.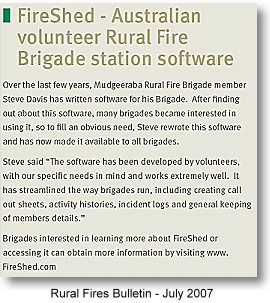 It is secure and password protected and you will access it at something like YourBrigade.FireShed.com. This is 100% free.
When you try the demo, you are using the cloud version of FireShed. The application code is shared by all hosted brigades but each has its own database to keep info private and secure.
Feel free to have a play with with the demo version including changing data. The demo database will be reset regularly so any changes you make will eventually be lost.
If you are interested in using FireShed at your brigade: Be sure to register, I may then contact you to make sure you are genuine and if so will set up FireShed for your brigade.
Note that it is not supported or endorsed by the Qld Fire and Emergency Service (but I wish they would).
If you find some sort of problem or if you have an idea to improve the software, please submit a bug report. There is a link at the top of every page.
Updates:
1.1.4

Some reports weren't working

1.1.3

Various bugs fixed
Added training ID (USI) to member view page

1.1.2

improvement: in response module, changed text "not available" to "not responding"

1.1.1

bug fix - training report not working when selecting all modules
bug fix - replaced deprecated each() in trainingreport.php

1.1.0

bug fix - member reports wasn't showing all members when that option clicked - Thanks Mark

1.0.1

bug fix - helmet colour wasn't updating for members unavailable.
After 16 years I have finally decided that FireShed is stable enough to be out of Beta release. Thanks to everyone who has contributed ideas
1.0.0

added option to choose either red or yellow helmet colour for officers tools > rank > edit I can add more colours if you need. Thanks for the idea Adrian.
older updates